Welcome to the Byam School Library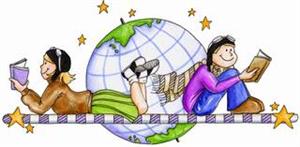 SUMMER READING 2020
The Chelmsford Public Library's Summer Reading Challenge is all online this year! To sign up, you may go to the link provided below. I have also provided a PDF of a guide to help you access the program. The official start date for the program is June 17th, the day after school ends for the year, and runs until September 5th. Something different this year is that participants will log days instead of minutes. Rewards can still be earned! I encourage everyone to take part in this program and to read as much as you can this summer!
Hello from Mrs. Barrett!
I have posted read-aloud videos for each grade level on my Google Classroom pages.  If you need the join codes for any grade level, just send me an email at barrettb@chelmsford.k12.ma.us and I will forward them to you.
NEW! Dav Pilkey has a website where you can watch videos, learn how to draw his characters, and more! Go to
https://kids.scholastic.com/kids/books/dav-pilkey-at-home/
NEW! J. K. Rowling has created a website called Harry Potter at Home.  An account must be created to access the website.  Go to
https://www.wizardingworld.com/collections/harry-potter-at-home
Follett School Solutions is providing free access to their library of ebooks until June 30, 2020.  Use this link to log in:
https://www.destinydiscover.com/aasp/ui/pick/picked  and click on Go.  Email me at barrettb@chelmsford.k12.ma.us for login credentials.
TIME fo Kids is offering free access to its library of K-6 digital issues.  To sign up, go to http://time.com/tfk-free
Here are some other awesome websites you can access for free!
Tumblebooks – Click the link to the right, then scroll down and click the link on the right.
Encyclopedia Britannica – Click the link to the left.  Lots of information as well as some games.
BrainPop Jr. – Click the link to the left.  Students may log in through their Clever account.
Kids InfoBits – Click the link to the left.
http://stories.audible.com– Great audiobooks.
http://juniorlibraryguild.com/at-home – Click on the school-level bookstream of your choice.  The selection of books changes regularly.
http://storylineonline.net – Actors reading stories
Chelmsford public and school Librarians read to kids. Comcast 22 or Verizon 36 @ 10am, 2pm, and 7pm.
or use this link at any time with your Chelmsford library card.
https://www.chelmsfordlibrary.org/kids/storytimetv-archive/?fbclid=IwAR0jTSGFpThiwZkaWZC2983HXFTvm6k2j80Uic1jHM7SopulJNgs3VnJM3Q
Peter H. Reynolds, author, who visited Byam in February is on Facebook Live daily at 12 noon.