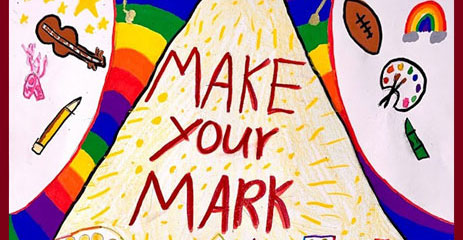 Byam School Association Hosts 2023 'Make Your Mark' Hootenanny Talent Show Mar. 25
in News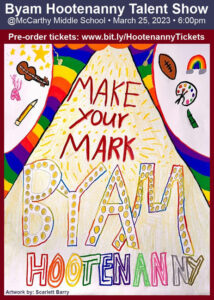 CHELMSFORD, MA (Mar. 7, 2023) – The Byam School Association hosts the 2023 Hootenanny 'Make Your Mark' Talent Show Saturday, Mar. 25 (6 p.m.) at the McCarthy Middle School Auditorium.
Admission is $5 payable in advance online (via credit card through Paypal) or at the door in cash. Online tickets can be retrieved at the will call window at the McCarthy Auditorium beginning at 5:15. Performers and volunteers will be admitted free.
Attendees are encouraged to purchase tickets in advance to avoid lines. All ticket sales benefit the Byam School Association (BSA).
For more information contact Karyn at ByamHootenanny@gmail.com.
About Chelmsford Public Schools
The Chelmsford Public School District provides all students with multiple pathways to optimize their own potential for academic excellence, leadership, and social and emotional wellness. The mission of the Chelmsford Public Schools is to educate, engage, prepare, and empower well-rounded and knowledgeable learners to PERSEVERE through challenges, demonstrate RESPECT and INTEGRITY in their words and actions, are DEDICATED to their community, and display EMPATHY as global citizens while discovering and pursuing their full potential.  This PRIDE-driven culture enables all members of the school community to support the growth and development of students.  For more information, please visit www.chelmsfordschools.org.